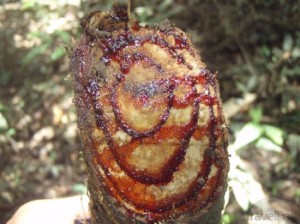 Let your imagination conjure up the image of a bleeding tree that possesses countless cures and you have an accurate description of sangre de drago, popularly known as dragon's blood. The scarlet-shaded sap that flows beneath the bark of this remarkable tree has held a lofty position in the native botanicas and healing circles of Peru, Ecuador and Colombia for centuries.
Highly prized for its remarkable pain relieving ability, the sap of this herb is painted on insect bites, wounds, burns, itchy skin (as from poison ivy), and fungal disorders. It creates a protective "second skin" that helps to seal out viruses and bacteria, thus aiding in the prevention of infection. Internally, this plant medicine addresses ulcerative conditions in the mouth, throat, stomach and intestines. In this latter regard, sangre de drago makes a fine companion to cat's claw, the premier herbal guardian of the intestinal tract. The swelling, redness and pain caused by bees, fire ants, wasps and mosquitoes respond favorably to the healing powers of sango de drago. This plant is being studied for its anti-tumor potential.
Tall but slender, the sangre de drago tree rises 65 feet above the upper Amazonian forest floor. This medicine-rich perennial displays large, bright-green leaves shaped like hearts. The plant's greenish-white flowers form a graceful queue along slender stalks.
Apply the resin topically to cuts and burns and especially to any skin condition that is characterized by itchiness. Caution: since the red resin may stain clothing permanently, apply to bare skin until dry.
The opinions expressed are solely the writer's. NOTE: Visit herbalastrology.com to read Ted PanDeva Zagar's other articles and columns that discuss the benefits of herbs and natural foods. DISCLAIMER: The author's comments are not intended to serve as medical advice, and he urges his readers to seek qualified wellness professionals to resolve matters of health.


Read more: http://www.nwitimes.com/niche/get-healthy/healthy-living/article_c67ebaa9-2e44-5160-b9b9-ac5c70f3f996.html#ixzz1ahyCinfe