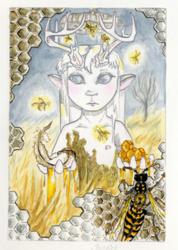 Austin freelance Illustrator Monica Knighton harnesses the power of crowd funding in an effort to bring her literary themed Stolen Child Tarot to life. The haunting and ghostly images of the Stolen Child Tarot deck are the perfect way to usher in Halloween.
Austin, TX (PRWEB) October 12, 2011
Crowd funding may not be the typical source for financing an up and coming artist's dream; but, Monica Knighton's Stolen Child Tarot isn't your typical tarot deck either. Ms. Knighton is thankful Kickstarter and other crowd funding sites are empowering artists and creatives to test market their work. Her enthusiasm is contagious as she comments, "You can put your plan, idea and talent in front of everyone and see the real response. If people like it and pledge support to you, you get to engage with them personally. If you meet your funding goal, dynamite! You get to bring your work to life!" The opportunity is a win/win situation because in the event the funding goal is not met, the pledges are not charged yet the artist still receives valuable feedback on his or her work. You can see more of the deck, or make a pledge on the project's Kickstarter site. The whole campaign runs through - when else - Halloween!
Knighton's inspiration for the Stolen Child Tarot project comes from the William Butler Yeats poem of the same name. Keeping with the spirit of the poem, there are no adult figures or man-made objects included in the fantasy images. The tarot deck is inhabited with hedgehogs, glow worms and ghostly fairy children who beckon you into their spooky woodland home. The deck's creation is even interactive, where pledge supporters can suggest animals or objects personal to them to be included. Art lovers who support and pledge are thanked by the artist with a copy of the completed deck, among other personalized rewards.
Yeats writes with mystical allure:
"Come away, O human child!
To the waters and the wild
With a faery, hand in hand,
For the world's more full of weeping than you can understand."
Delving into the mind of Yeats, Knighton comments, ""There's a longing in the poem to escape to nature and leave behind the problems of the world. That's what really sticks with people who read it." What sticks with this writer after viewing Ms. Knighton's extraordinary "Stolen Child" artwork is that her ambition coupled with her talent may prove to be the tipping point in her career as a freelance illustrator.
Whether you are a celebrator of Halloween, a tarot enthusiast or a connoisseur of the fine arts, one thing is for sure: Halloween has never seen as sweet a treat as Ms. Knighton's deliciously haunting and ghostly imagery.
Artist information:
Monica Knighton resides in Austin, TX. She completed her Bachelor of Fine Arts at Southwest Texas State University in San Marcos. For further information regarding this project, or to view Ms. Knighton's portfolio, please contact her via email or call (512) 453-5050 and ask to speak with Kat Davis. Futher information and other artwork can be found by visiting Ms. Knighton's No Borders Studio website.


Read more: http://www.sfgate.com/cgi-bin/article.cgi?f=/g/a/2011/10/12/prweb8863794.DTL#ixzz1abasRgnx