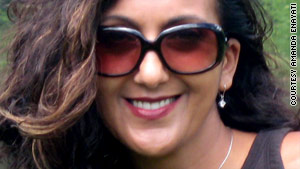 By Amanda Enayati
(CNN)
-- The first thing I did after receiving what is surely one of the top two or three most terrifying medical diagnoses was pick up the telephone to call my husband to tell him to come home, and my brother to ask him to call my parents, because I couldn't bear their grief as well as my own.
The second thing I did was open a document in Word and name it: The Second Half of My Life.
And these are the words I wrote in those first few minutes:
You probably wouldn't believe my life. In a certain light it would read like an encyclopedia of tragedy: revolution, disease, isolation, dysfunction, terrorism, failure and withdrawal. Before you check out, let me also tell you that if you were to meet me, you may think a
sunnier person never lived.
The writing was automatic, intuitive and almost unconscious for me. But as time passed I felt certain that it somehow had helped save my life, though I dared not articulate it for fear of sounding irrational
I was about halfway through the Aspen Words literary festival last week when I noticed that writer after writer spoke of a basic human need to tell a story, using words like "primal," "fundamental," "necessary."
Continue Reading