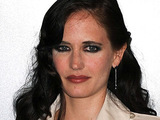 Camelot
star Eva Green says that she is impressed by the show's visual spectacle.
The actress, who plays the sorceress Morgan, told
Collider
that the forthcoming Starz fantasy drama "looks amazing".
"I've never seen it like this," she said. "I'm transforming and shapeshifting sometimes, which is really physical. I met a shaman for that. It was fascinating and quite mad. You have to be into it."
Green added that the use of magic in the ten-part series will be different to "
Harry Potter
or Walt Disney".
"You see people changing shapes, but it's mainly ancient, pagan magic," she explained. "It's magic using... the forces of nature, like air, water, earth and fire. We don't wave a wand."
The
Casino Royale
star revealed that magic is "like a drug" to her character.
"Merlin (Joseph Fiennes) is world-weary when it comes to magic," she confirmed. "He has seen and experienced too much. And for Morgan, magic is new to her and she's drawn to it. It's very exciting."
Camelot
premieres on April 1 on Starz.